1.Why the leather preferred
Express the class, style and aesthetic of the user.
Quality, luxury, nobility.
Diverse fashion colors, not out of date.
Make a comfortable feeling.
Genuine leather can "breathe" because the pores help its surface be breathable.
->Cool in the hot season and warm in the cold season.
Many other great features, etc.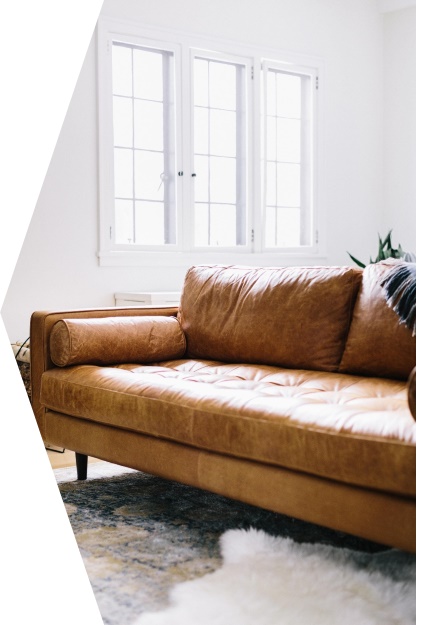 2.Characteristic of leather
Genuine leather (or tanned leather) is a natural organic material created through the tanning process - the chemical process of animal skin such as cowhide, calf leather, buffalo skin, goat skin, sheepskin, crocodile skin, etc.
2.1.Characteristics of genuine leather
The outstanding feature of genuine leather is its ability to retain heat. If exposed to heat, the leather will heat up and keep warm for a while.
Durable, highly elastic; very natural waterproof that water is absorbed and self-dried.
The Surface of the leather is a bit rough, with specific and unique veins and patterns.
Have a variety of colors.
The leather can "breathe" because the pores make the leather breathable, so it does not cause unpleasant odors when using the product.
Longevity is up to hundreds of years.
2.2.Synthetic leather
Synthetic leather is also imitation leather that is closest to the Genuine leather. It is an artificial chemical formed through molecular polymerization, PVC and polyurethane (PU) and other materials made from PVC.
2.3.Characteristics of synthetic leather
Soft, light and waterproof → easy to clean.
The surface is smooth, shiny → easy to create many styles with diverse colors.
Easy to ignite, heat-phobic.
The surface of synthetic leather is sealed and cannot "breathe" so it would get odor if there is no air.
Much cheaper than the Genuine leather.
However, life expectancy is far less than Genuine leather if it is not well-preserved.
Maximum lifetime is over 1 year.
3.Products from genuine leather and synthetic leather
3.1.Sofa
High-end Sofa (Genuine Leather, Imitation Leather) is widely used in luxury hotels, resorts, Government buildings, upper-class furniture...
3.2 .Handbags, belts, wallets
The Leather is the fashionable material that is preferably used by many world s leading designers for bags, wallets, belts, watches: Channel, Polo, Fossil, etc.
4.The frequently problems for leather
4.1.Genuine leather
Easy to get dirt and mold on the surface.
The surface of the real leather is blistered, flaked, molded and become aging over time due to agents such as UV rays, moisture, etc.
Not doing the cleaning often or improperly takes the shine of leather surface away and makes it dusty.
It is easily moldy, wrinkled, aging and gets an odor.
4.2.Imitation leather
Due to the structure of thermoplastic, it is easy to catch heat, flammable.
Similar genuine leather, the surface of the imitation leather is prone to peeling flaked, blistering, discoloration and aging over time by UV rays and environmental factors.
->
SO, WE NEED TO PROTECT LEATHER FROM THE BIGINNING
5.Current leather cleaning method
5.1.Wash with detergent solution or dry with a large capacity machine for synthetic Leather material.
a.Advantages:
Clean the dust and dirt on the imitation leather's surface due to its waterproof nature.
b.Disadvantages:
Shorten the lifespan of leather.
Quickly wrinkled, discolored and aging.
Harmful due to chemical residue on the leather surface.
5.2.Gently wipe with a soft dry cloth to clean the dust
a.Advantages:
Not scratch the leather surface.
b.Disadvantages:
Not clean dust, stains and not handle the problem of mold, discoloration, aging, etc.
5.3.No protection:
After a while, leather will get old, discolored and aging, etc.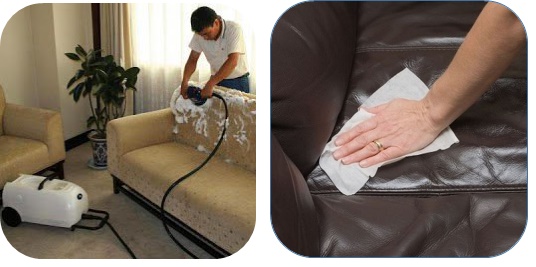 5.4.
The above-mentioned methods of restoration and protection for leather are still not effective, because after a period of time using the leather will
Losing the original elegance and class.
No more aesthetics and fashion.
6.
Overview about fabric and carpet
6.1.Why is fabric and carpet referend
Express the level and aesthetic of the users.
The Combination between fabrics and carpets creates a delicate, luxurious and beautiful space.
Make a comfortable feeling.
Have a variety of fashionable colors, which is not out of date.
Ability to adjust the light for space.
Keep warm, soundproof → noise reduction.
Easy installment.
Many other great features.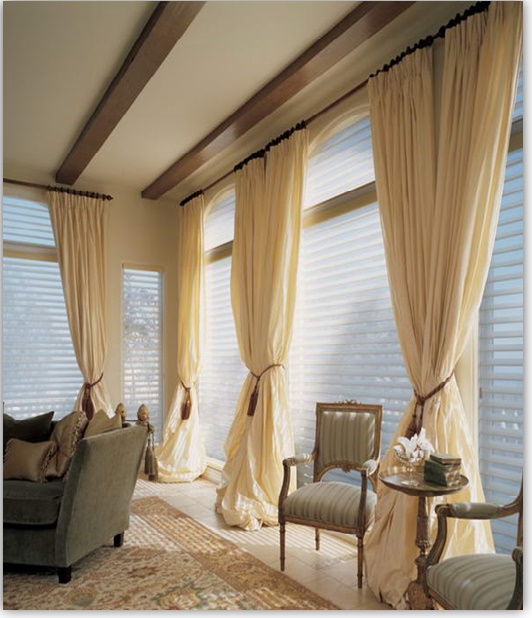 6.2.Overview of fabric
6.2.1.Characteristic of fabric
The Fabrics are classified into three main groups according to the origin of the fiber: natural fabrics, synthetic fabrics and blended fabrics (combined between natural fabrics and synthetic fabrics).
a.Natural fabrics having the origin of plants (cotton, linen, hemp, jute) or animals (silkworms, etc).
Bright, soft, glossy, lightweight, well hygroscopic.
Heat insulation makes it cool in the summer and warm in the winter.
Porous, highly durable; little wrinkles, elasticity, and water absorption.
b.Synthetic fabrics and blended fabrics including PA (polyamide), PE (polyester), PAC yarns (polyvinyl acrylic).
Little wrinkled, little swollen, less water absorption.
Quite light, hard to be dusted, durable friction, no mold damage.
No shrinkage, no sag → keep in shape.
Self-defense against stains naturally.
PE fabrics are not shrunk when washing; anti-wrinkle and anti-stretch.
Easily dye and makeup designs.
6.2.2.The productions from Fabric
a.Curtain fabrics, tablecloths
Fabric curtains bring luxury to large spaces such as government buildings, resorts, international standard hotel, etc.
Tablecloths also enhance the elegance of furniture if being used in accordance with architectural space.
b.Clothes, bags, shoes
At present, clothes, shoes, and handbags of famous brands in the market are made of natural and artificial fabrics that are very fashionable and high-class
6.2.3.The productions from Fabric
a.Products made of natural fabrics:
Fabrics are crunchy under high temperature due to poor heat resistance and rotted and discolored when being exposed to light and sweat.
Easy to shrink and wrinkle; less durability with an alkali such as detergent causes discoloration.
Easily attacked by a microorganism, causing damage to the fabric surface.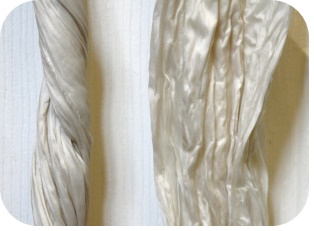 b.Products of synthetic fabrics and blended fabrics:
Low moisture absorption (about 4.5%); difficult to escape the air, causing discomfort when wearing.
Become aging, yellowish, discolored and crunchy over time, especially when being exposed to sunlight.
Low heat resistance - easy to shrink and soften if ironed under the temperature of over 150 degrees Celsius.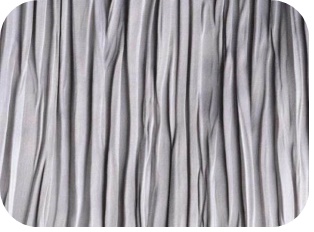 6.3.Overview of carpet
6.3.1.Characteristic of Carpet
The carpet is made of natural fibers which are wool and synthetic fibers including Acrylic (wool), Nylon, Olefin, Polypropylene (PP), Polyester (PE).
a.Carpets from of natural fibers (wool)
Durable for from 10 to 15 years, soft, supple with subtle colors.
Good fire resistance.
Wool rugs are well elastic that cannot be stretched or creased.
Because carpet is multi-layered, the dust is kept on the surface so it is easy to clean.
Anti-wear and anti-scratch.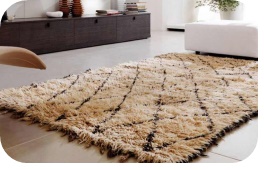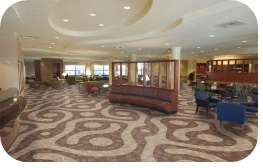 b.Carpets from synthetic fibers
High durability; not electrically charged, little faded; good stain-repellent.

Easily dyed, printed with patterns.

Used effectively in wet and misty environments.

Lightweight → save shipping costs.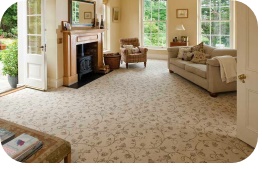 6.3.2.
Some Carpets popular
a.Roll carpets
Roll carpets are usually used in very large areas, such as resorts, luxurious hotels, government buildings, premium offices, etc.

b.Piece carpets
Carpets are designed in the form of carpet tiles with small size, which are convenient to use and preferred in modern offices, hotels, etc.
6.3.3 Common problems in Carpets
->Fibers are sagged and severely damaged, leading to decay and discoloration.
UV rays and environmental factors cause aging and flaking over time.
Hydrophobic.
->Moldy, wrinkled, aging, smelly.
->
Must be maintained regularly.
7.Current methods of cleaning fabrics and carpet
Currently, there is no method to protect fabrics and carpets, other than sanitary by conventional washing or by using vacuum cleaner and washing machine.
Alkaline and acid substances in detergents are effective in cleaning stains, smudges on the surface of fabrics or carpets,…
However, this method exists some following disadvantages:
Surface is aging, discolored, fast rotten.
Burned and darkened if being washed improperly.
Harmful due to chemical residues after washing.
->Lose the original patterns and colors, changing the harmony of the whole design.
Costly due to frequent replacement